At orthopaedics.co.uk we review some of the crucial product advances for you...
Oxinium Knee Replacements
A total knee replacement involves cutting away the damaged bone of the knee joint and replacing it with a prosthesis. This "new joint" prevents the bones from rubbing together and provides a smooth knee joint.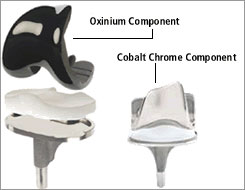 Oxinium femoral components are smoother than the traditionally used metal components, and reduce the friction between both replacement components and surrounding tissues.