Mr David P Johnson
MB ChB FRCS FRCS(Orth) MD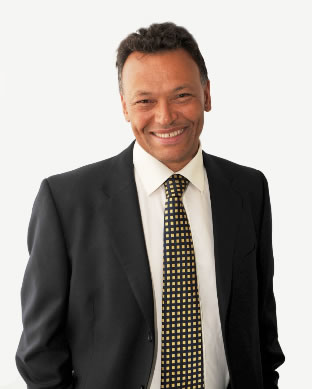 Having trained in Bristol, Oxford, Australia and the USA Mr. David Johnson has practiced in Bristol as a Consultant Orthopaedic Surgeon with a special interest in Knee Surgery and Sports Injuries for more than 15 years.

David has a specialist orthopaedic practice in treating both young and elderly patients with Knee or other orthopaedic problems. Patients attending Mr. Johnson's clinic travel from all over Bristol, bath, Cheltenham and Taunton. In addition Mr. Johnson has a national practice with patients travelling from the North of England, Wales, Scotland and Ireland. David's international reputation results in patients recently travelling from the USA, Hong Kong, Korea and Europe. In 2010 one of the German first division soccer players from Munich was referred from Switzerland for a second opinion from David. In that year a GP also travelled all the way from Perth Australia to seek David's opinion and treatment. David's international expertise has been recognised and he is one of only two European surgeons on the editorial board of the American Journal of Sports injuries. David practices at the two private hospitals in Bristol and also at the Lister Hospital in London. Consultation scan be arranged at your convenience at allocation near you.
Leading Knee Surgery and Sports Injuries Practice
Around 75% of my practice is knee surgery and sports injuries, the remainder is related to hip replacements, foot and ankle problems, hand surgery and minor orthopaedics. Joint replacements of the knee, patella-femoral joint, uni-compartmental knee replacement and hip joint replacements are all undertaken. I also am regularly referred patients who experience problems following surgery elsewhere which need revision or correction of a complication following surgery. Approximately half of my practice is related to joint replacement and half to arthroscopy, ligament reconstruction of the knee, anterior knee pain, adolescent knee problems or other sports injuries.

The knee can present a very wide range of problems and pathologies, and as such an orthopaedic surgeon needs a range of abilities to help the variety of patients who seek help. This is best undertaken by an expert such as Mr. Johnson who specialises in surgery of the knee. Knee replacement is now undertaken in several different ways for different problems. A total joint replacement, a ceramic long lasting knee replacement, a medial or lateral uni-compartmental replacement or a patella-femoral replacement. A specialist knee surgeon need to be expert at all these procedures.

I have been leading the introduction into the UK of a ceramic surfaced knee for 8 years. This has the potential to reduce wear over time of up to 85%. This is expected to result in knee that works successfully for much longer than usual and potentially for 30 years or more. I have inserted many such knee now for over 8 years and as yet none has failed or given any problems.

Knee injuries are a common problem in the sporting athlete. On occasions severe ligamentous injuries occur which require expert reconstruction. This commonly involves the Anterior Cruciate Ligament. David has many years of experience in such surgery and is the senior orthopaedic surgeon in the UK in the select USA led ACL Study Group.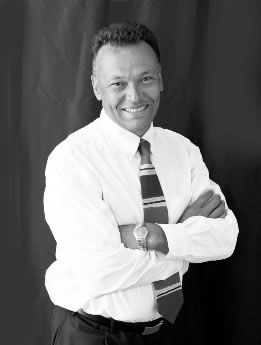 My Surgical Training
Born in Manchester I attended the University of Manchester Medical School, and undertook my postgraduate Surgical and Orthopaedic training in Bristol and Oxford, I obtained the Fellowship of the Royal College of Surgeons in 1984 and was awarded The British Orthopaedic Association Prize and Robert Jones Medal for my research work on prevention of Infection in Knee Replacements. I undertook surgical fellowship training in Melbourne and Sydney Australia and also at various centres throughout the USA. David is a regular instructor and lecturer at training courses. He is often invited to speak at international meetings and instructional courses and can be said to be internationally renown in Orthopaedic Surgery.

He has published widely, particularly on knee ligament reconstruction and the use of minimally invasive techniques.
Outside Interests
I have always been active in sports. In Basketball I played National league division 1 for more than 10 years, I played in the European Cup against the European Champions Cibona of Zagreb in 1985, I represented England U19, English and British Universities. In Rugby I played for Lancashire U19's. I continue to play golf off a handicap of 6, enjoy hill walking, skiing, sailing and dancing.

I can certainly empathise my patients' desires to return to activites and sports in many cases after their surgery, and perform their knee surgery or treat their sports injuries with this in mind.

I have two grown boys. One recently graduated and works as an investment banker in Geneva whilst the youngest will continue with a Master's degree at Imperial College London.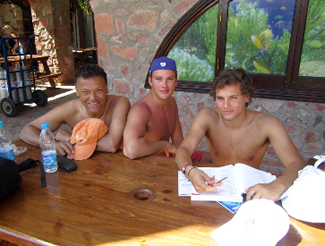 David on a diving course with children Egypt Sept 2010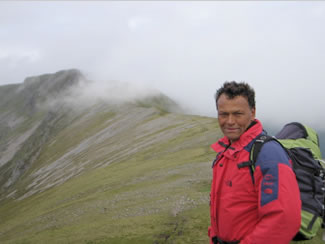 Walking Scotland August 2011

Clinic Details
The Bristol Knee Clinic and Sports Injury Clinic
St Mary's Hospital
Upper Byron Place
Bristol BS8 1JU
Tel: 0117 987 2727
www.nuffieldhospitals.org.uk
St Joseph's Hospital
Harding Avenue
Malpas
Newport NP20 6ZE
Tel: 01633 820300
www.stjosephshospital.org.uk
The Lister Hospital
Chelsea Bridge Rd.
Chelsea
London
SW1W 8RH
Tel: 01179 706655
www.thelisterhospital.com
Appointments: 0117 970 6655
Secretary: 0117 970 6655
E-mail

Curriculum Vitae
Click here to view Mr David P Johnson's CV

Fellowships
Fellow of the Royal College of Surgeons
Specialist Orthopaedic Fellowship FRCS (Orth)
Honorary Member of the American Orthopaedic Society of Sports Medicine

Memberships
International Society of the Knee
International Arthroscopy Association
American Orthopaedic Society of Sports Medicine
European Society of Knee Surgery and Sports Traumatology and Arthroscopy
British Orthopaedic Association
British Orthopaedic Research Society
British Association for Surgery of the Knee
British Orthopaedic Sports Traumatology Association

Awards
The British Orthopaedic Association Prize and Robert Jones Medal
Theo Van Rens Prize from the European Society of Knee Surgery and Sports Traumatology
The Whipps Cross Surgical Prize
The Muckerjee Prize from the British Orthopaedic Association

Scholarships
1986 GLAXO Medical Research Scholarship
1986 Biomet Research Scholarship
1987 Ethicon Foundation Travelling Scholarship
1987 Dickinson Trust Scholarship
1988 Nuffield Foundation Research Grant
1989 Smith & Nephew Foundation Scholarship
1991 Editorial Panel New England Journal of Medicine
1996 British Journal of Sports Medicine

Publications
To read abstracts of these articles go to our Research Page
Infection And Wound Healing In Knee Arthroplasty
(ACTA Orthop Scan 1993: 64; 252; 1­48)
The Anatomy And Biomechanics Of The Patella Tendon
(The Journal Of Bone And Joint Surgery)
Anterior Cruciate Ligament Reconstruction In The Over Forty Age Group
(The Journal Of Bone And Joint Surgery)
Operative Complications From The Use Of Biodegradable Kurosawa Screws
(The Journal Of Bone And Joint Surgery)
The "Comma" Sign Following Arthroscopic Anterior Cruciate Ligament Reconstruction
(The Journal Of Bone And Joint Surgery)
Treatment Of The Cruciate Deficient Degenerative Knee
(The Journal Of Bone And Joint Surgery)
Anterior Knee Pain In Athletes: Surgical Management
(The Journal Of Bone And Joint Surgery)
Partial Rupture Of The Anterior Cruciate Ligament
(The Journal Of Bone And Joint Surgery)
Radiological And M.R.I. Analysis Of The Morphology Of Patellar Tendonitis
(The Journal Of Bone And Joint Surgery)
Arthroscopic Surgery For Patellar Tendonitis: A One To Four Year Follow Up Study
(The Journal Of Bone And Joint Surgery)